Featured on PortugalResident.com
Spy Manor Productions have brought another international film event to the Algarve, this time to its headquarters – Villa Skyfall – in Ferragudo.
The production company hosted on August 16 the premiere of the nominees' showreel for the 2022 International Motor Film Awards (MFA), described as a "high-profile showcase of talent and the world's most prestigious celebration and awards night for the automotive film and television industry."
Spy Manor says the MFA is "an exclusive black-tie awards and screening event held in central London at the end of the year" which recognises "directorial and production talent from high-end films and commercials to student and independent productions.
"Supported by leading authorities and brands within the automotive sector, leading brands within the film and television industry, and Oscar, Emmy and BAFTA winning professionals, the International Motor Film Awards are the Oscars for the motoring world," the production company adds.
Among the guests were Miguel Costa – Director of C Santos Veículos e Peças SA, Luxury Division from Lisbon – and Vince Knight – Managing Director of MFA in London.
"A select few were invited to be a part of the premier showreel in the villa's private cinema and be a part of the judging process for The International Motor Film Awards," says Spy Manor.
"Miguel and Vince welcomed the attendees and enjoyed some refreshments before the surprise arrival of aerial stunt diver Paul Caspey who landed by the pool and presented the golden envelope to Vince from the sky, announcing the nominees for the Best Drama Feature category," it adds.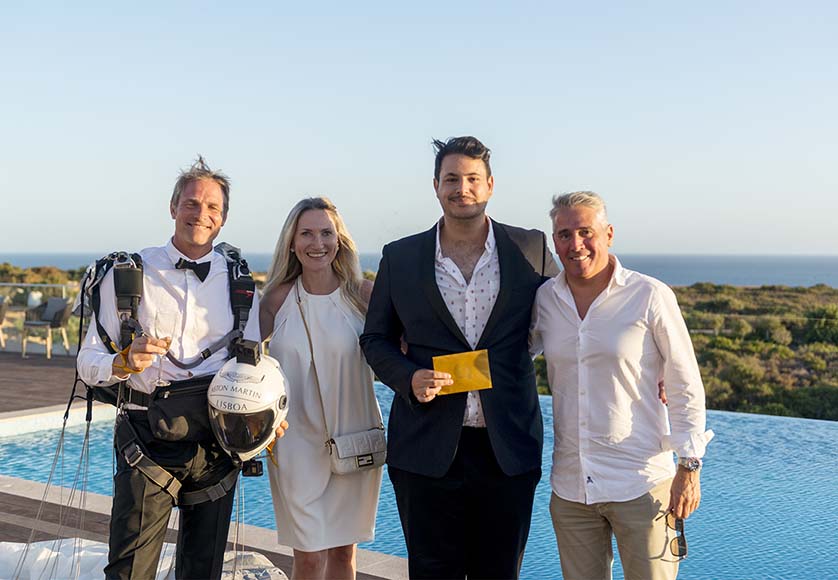 The nominees include huge blockbusters such as No Time To Die and The Batman, as well as Ambulance, Kate, Night Teeth & Infinite.
The guests then made their way down into the venue's private screening cinema before casting their votes back up on the main terrace.
Motor Film Awards nominees revealed in Algarve
Guests
"We are thrilled to bring the International Motor Film Awards to Spy Manor to announce the nominees in such a unique fashion," said Vince Knight, MFA's managing director.
Meanwhile, Spy Manor founder Vanda Everke stressed this was the second year that the production company worked with the MFA.
"We were so pleased when our schedules aligned, and we managed to have Vince join us here in the Algarve. We are incredibly excited to host in the Algarve the international event celebrating our passion for cars and the cars in the movies; we look forward to attending the awards ceremony in London on September 21," said Everke.
Peter Ogunsalu, Development Executive at Spy Manor, added: "What an honour it is to bring the Motor Film Awards to the Algarve for the first time. It is a privilege for Spy Manor Productions to be part of the international journey for this gem of an award show as it continues to inspire the industry."
Photos: SPY MANOR