Filming Locations
Movies are our Life
Spy Manor offers you exclusive access to some of the most exquisite properties along the Algarve, perfect not only for filming purposes but also for accommodating your crew.
Contact us to learn more about these locations or if you have a property and are interested in promoting it as a filming location. We would love to hear from you!
Villa Skyfall – Vale da Azinhaga, Algarve, Portugal
Available for Filming, Screenings, Photoshoots, and High-End Corporate Hospitality
This film-inspired frontline villa has top-of-the-range facilities and spectacularly breathtaking views.  Being Spy Manors HQ in the Algarve, you will find absolutely everything you could need here.
Infinity Pool – Custom Dream Garage – Premium Cinema Screening Room – Two expansive exterior terraces on both upper levels of the property with a large hot tub – Waterfall and Lakes – Tennis court and mature plants within the landscaped grounds with panoramic sea views – Secure, sweeping, gated driveway – Air conditioning throughout.
Villa GoldenEye – Praia da Marinha, Algarve Portugal
Available for Filming, Photoshoots, and Accommodation.
6 Bedrooms – 6 Bathrooms  
Inspired by Goldeneye, each of the 6 bedrooms have their own theme. The Villa is modern but very tastefully designed, meaning that it is highly adaptable and multi-functional.
Infinity pool (can be heated) surrounded by a large terrace – Open plan living, dining, and lounge areas – Three levels – Mountain and Ocean views – Elevated and private location – WiFi – Sonos Sound System – Satellite TV – Secure private gated driveway –  Air Conditioning.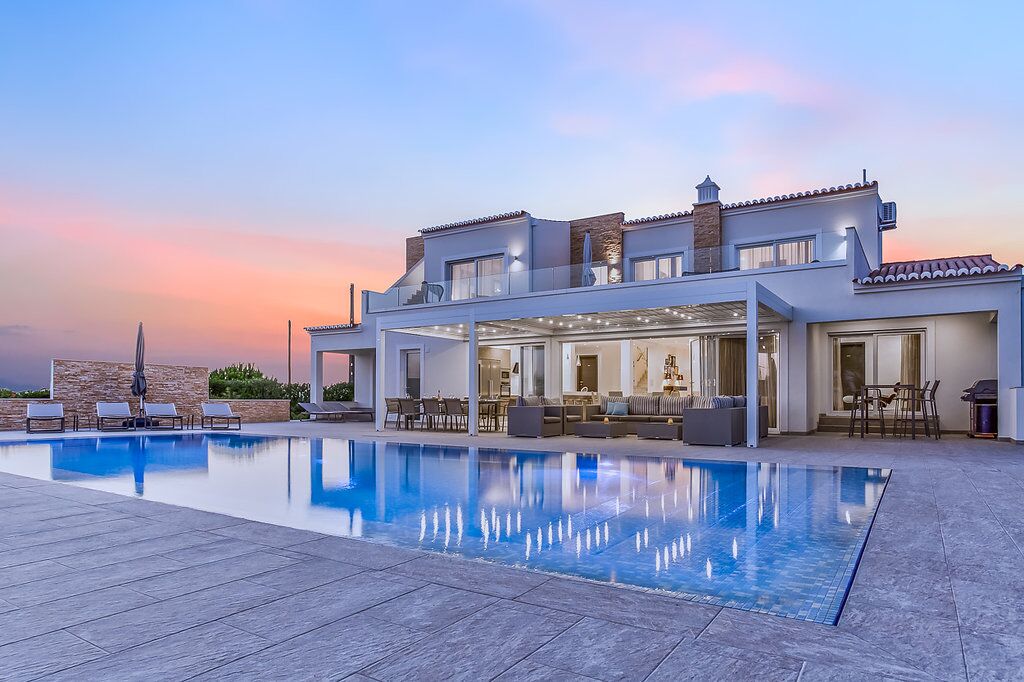 Sky Base One – Carvoeiro, Lagoa, Algarve
The construction will end in 2023.  Available for Filming, Photoshoots, and Sale. 
6 Bedrooms – 8 Bathrooms – 624 m2 Villa
This fabulously unique home based on the most famous Sci-Fi Space Ship taking an unexpected landing is one of our most adventurous projects to date. What lies beyond the hidden entrance will transport you to another world.  Built to make use of natural light and the glorious sea views surrounding the property, Sky Base One is a perfect location for a very special shoot!
First-line Seaview – Infinity Pool – Elevating platform from the basement to the ground floor – Automatic living room/dining room and kitchen patio door which descends into the floor, completely opening up space to the outside – Custom Dream Garage (upon request) – Premium Home Cinema (upon request)  – Air conditioning throughout.
https://www.youtube.com/watch?v=PecmhfZCP6A
Casa XYZA – Lagoa, Algarve, Portugal
Available for Filming, Photoshoots, and Accommodation.
5 Bedrooms – 5 Bathrooms Villa
This Bohemian style, Palm-lined, white-washed modern Algarvian Villa has a Mediterranean, minimalistic feeling that runs all the way through the property. From the strategically set outdoor lounge areas, the views out to sea and sunsets are rather extraordinary.  The pool is located at the back of the property, giving it privacy.
Private swimming pool – WiFi available – Air conditioning – Private garden – Satellite TV – Parking – Not suitable for wheelchair users – Child-friendly – Car advised