Spy Manor Team
Founder and Executive Producer
Vanda Everke 
In this role, she is focused on building a network within the film industry to attract moviemakers to Portugal.
Her mission is to establish the framework for the location, production, and co-production services that Spy Manor has to offer.
Being married to a passionate James Bond movies fan along with the fascination with the beauty and the charm of Portugal have inspired Vanda's move to this industry.
Apart from Spy Manor Productions, Vanda is managing Astmond Lifestyle marketing consulting company, a family, and is enjoying playing tennis in her spare time.
Producer and Development Executive
Peter Ogunsalu 
Peter has over 20 years of experience in the film industry. He has worked closely with iconic producers Stephen Woolley and Nik Powell and collaborated with studios such as Miramax, Paramount Pictures, and Warner Brothers.
Peter specialises in brand marketing associated with film and fashion and has worked on classic and diverse productions including, "The Crying Game", Michael Collins, "The End of the Affair", "Interview With the Vampire" and "How to Lose Friends and Alienate People".
As a product placement director, he has worked on films including "Kill Your Friends", "Carol", and "London Fields". He served as a research adviser on the James Bond documentary Everything Or Nothing and as a producer on various short films and documentaries. including "Through Her Eyes" and "Studio 17: The Lost Reggae Tapes".
Most recently, he has aligned product placement integration on the caper comedy "The Hustle" starring Anne Hathaway and Rebel Wilson and the up-and-coming Blumhouse Productions feature "You Should Have Left", starring Kevin Bacon.
Head of Content Development
Nissan Stern 
Shaped by his sleepy and dry hometown, Beer- Sheva, and all the opportunities that it offered— none!
Nissan's passion for writing started later in life with the obsessive desire to tell stories first and foremost to himself.
After accumulating a diverse and extensive body of work as a producer and a scriptwriter in New York he headed to Portugal, where he is currently working as the head of content development for Spy Manor.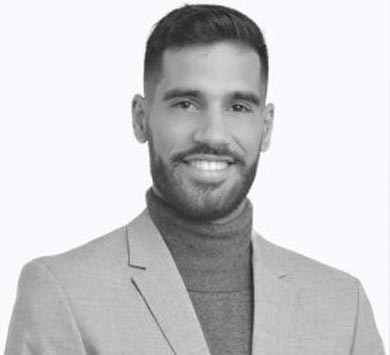 Regional Consultant
Rodrigo Santos 
Having grown up in the Algarve, Rodrigo is an absolute expert in this part of the country.
Rodrigo comes from a scientific background, having studied biochemistry. Possessing an analytical mindset along with being very sociable and communicative, Rodrigo is an essential part of our team.
He has invaluable tips when it comes to local accommodation, travel, as well as the government/formalities network.